Finally, it's done! I have to say sorry to Shii, the translator of this project, because of my lateness in timing I make all the process get delayed. I will try to do my parts better next time T.T
Anyway, it's time for another release! This time we bring you the second episode of Lucky 7, in which our detectives got to work in a lab and wearing white coat and also the sight of Shuntaro got a little bit excited after Nitta mention "treasure". Want to know what happen in the drama? Go and download the drama to find the answer! :D
NOTE:
Remember that from now on ANM will put the files inside a rar. Join the rar using hjsplit. And the password provided here is the password for the rar files. If you have any problems with downloading the file or how to unrar the file, please contact
misaki82
for further information.
[Drama] Lucky 7
Episode 2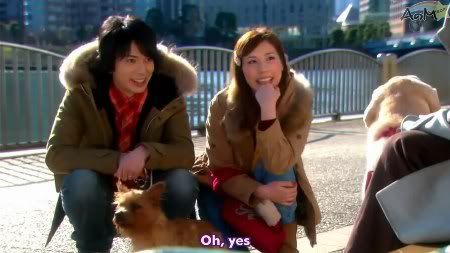 The lovely couple of Lucky Detective Agency!
Brought to you by ANM team
Please respect us by keeping the files to yourself
STAFF
Translator: Shii
Editor: Andie
Timer: harunomasu
Typesetter: harunomasu
Encoder: nana
RAW: D-addicts
DOWNLOAD LINKS
HD version
IFILE: FULL FILE (password: d0gwAlk)
MF: 001 | 002 (password: d0gwAlk)
MQ version
IFILE: FULL FILE (password: l3gsrUn
MF: FULL FILE (password: l3gsrUn)
JUNE 2017 UPDATE:
New Links for this release here:
MEGA
(keys:ks0IVee53vCShniS4R8p6Y3vdnRWQtOq9e
NZoto6o0E)
byleiva21


ENJOY the show and remember to always protect your subbers :)